Comments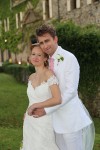 "Christina Short"
I wanted to thank you from the bottom of my heart for the beautiful photographs you took for the wedding of our daughter, Maxandra. You were such a delight to work with from the first time we met to the day of receiving the stunning albums. Your photographs completely captured the beauty, joy and magic of the 3 day event. The lighting, artistry and clarity were superb. Our friends also commented that you were very respectful of their view of the wedding and were unobtrusive. Your suggestions were so valuable and your creativity and artistic eye were most evident. We were amazed at how fast and efficient you were in getting the initial photographs to us which we were eagerly awaiting. And you even shuttled some our guests home who unexpectedly were without transportation. It was all in all such a pleasure working with you, your professionalism and kindness. You ended up like a member of our family. You really made our wedding become immortal in the most perfect way.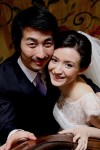 "Ayano & Raybun"...."嶺文 & 綾乃"
We thank you infinitely for your presence during this very important moment of our life; meeting you was a great pleasure and we are very satisfied with the quality of your magnificent work. You have been very professional, discreet and obliging. Thanks to you, this day will remain engraved forever in our memory. Thank you. 私達はスイスとフランスの国境にあるレマン湖畔で結婚式を挙げました。一生の記憶に残る結婚式としてプロカメラマンのアランさんに結婚式の写真をお願いしました。彼にお願いをして本当に良かったです。会場での心遣い、写真の出来上がりの質、終始プロとしての素晴らしい仕事をしてくれました。フランスやスイスで結婚式を挙げる方はアランさんに頼んでみてください!アランさん、本当にありがとう!
"Vanessa & Vincent"
Again a huge "Thank you » for accepting to be our photographer. You really made a wonderful work.
"Anabel & Rodolphe"
We have known Alain through the Castle of Coudrée, for our wedding on 07/09/2013. Alain is very professional, very discreet; we even forgot his presence during this day. Photography sessions were very fast, group's pictures also. The rendering is just exceptional, as well as photos on site, DVD and photobook! We recommend him!!! A very pleasant photographer, a high-quality work and a very good value for money!
"Jennifer & Timothée"
A big "Thank You" for this quality work and an availability at all times. Thanks to you, we keep an unforgettable memory of this beautiful day. Thank you from the bottom of our hearts.
"Céline & Jean-Marc"
The bride and groom are grateful to have some magnificent pictures and photobook which will enable them to keep a maximum of memories of this beautiful day. To summarize in 2 words: "excellent service ". Thank you again for everything Alain!
"Dorothée & Imad"
Pleasant, discreet and professional, we thank you for having accompanied us during this important event. Photos are high quality, as well as the album. We can only recommend you. A big thank you!
"Pauline & Paulo"
Thank you very much for the pictures and the album, the shots are inestimable and you are really talented in immortalizing the most beautiful moments. Thank you again!!!